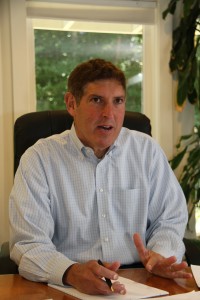 For more than 30 years, Bob has helped CEOs and senior executives optimize their businesses and become stronger leaders. He has worked with his clients to maximize growth and profitability, design and implement winning strategies, build leadership teams, and achieve operational and human resources excellence.
Bob spent the first two of those decades assisting leaders of the Fortune 50 and other publicly-held companies. As CEO of Fifer Associates he has broadened his services, advising CEOs of mid-sized and smaller companies while also continuing to serve large public companies.
Bob is also an acclaimed author. His book Double Your Profits in Six Months or Less: 78 Ways to Cut Costs, Increase Sales, and Dramatically Improve the Bottom Line was a best-seller and received glowing reviews in the business and popular press. It became required reading for management at a wide variety of Fortune 500 companies, including General Electric (where Jack Welch and his direct reports bought thousands of copies), Honeywell/Allied Signal, Citicorp/Travelers Insurance, and hundreds of others. The book is available in eight languages, and years after its publication CEOs all over the world continue to buy it and distribute it to their management teams. His more recent book, The Enlightened CEO: How to Succeed at the Toughest Job in Business, co-authored with Gordon Quick, has also received strong reviews and has helped CEOs and their companies achieve ever-greater levels of success.
Bob graduated from Harvard College in 1977 with a degree magna cum laude in economics, and from Harvard Business School in 1979. In addition to his consulting work, Bob is General Partner of Kaiser Capital Fund, L.P., an investment partnership, and has served on a variety of Boards and Advisory Boards.